A brand new line of furni, and previews for an upcoming bundle, were announced via. Habbo's Official Twitter account on Monday. The furniture seems to be specially made for the bundle, unlike other bundles where furniture from several diffrent furni-lines is used. The furni, along with the bundle, is set to be released sometime in Mid-July. The 17 new furniture are:
---

- garden_basket

- garden_basketflower

- garden_bigpot

- garden_birdbath

- garden_boots

- garden_chair

- garden_climber

- garden_fishgnome

- garden_flowerbed

- garden_grass

- garden_patio

- garden_pond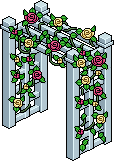 - garden_rosearch

- garden_rosefence

- garden_smallpot

- garden_stonesteps

- garden_table
---
Here is a preview of the upcoming bundle:
---
Update: The bundle has been released in the catalog, and can be bought for 99 coins, or directly in the "Habbo Mall"!
What do you think of the new furni & the new bundle? Let me know in the reactions column.