Join us!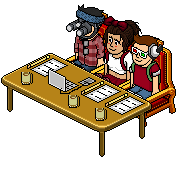 If you think you've got what it takes to be a part of our dynamic and unique community, drop us an application below!
Joining the team
Habbos who are currently volunteering for another fansite can join roles that does not conflict with their duties on the other fansite (permission must be granted from the other fansite). They must also not hold any senior or managerial position on the other fansite. We reserve the right to decide whether you can be on the team, and you should declare this in your application.
Applications that lack effort will be rejected - so please avoid one-liners.