Hoot Hoot!

Do you think you can beat the owl this time?!
---
Activity
• Search OutReign for [HabboBites] Weekly C&C Comp or click here
• Beat the owl by running through the snake maze
• Top 3 people on the leaderboard will determine the winners
• Post in the thread by clicking here your habbo information and room information ONCE when in the leaderboard room. You can do the game as many times as you like.
(Please note if you do not submit a screenshot you will not recieve the username icon or get the prize if you are in top 3)
If at anytime one of the rooms break please get in contact with me either VIA Twitter Out_Reign or DM on HabboBites. I'll get to it when I can!
---
Rules
• One entry per person, multiple entries will be invalid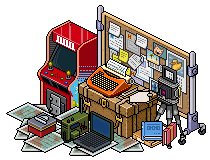 • Screenshot of the room must include your Habbo information AND room information
• Entires that are submitted without your Habbo information will be disqualified
• Entries & posts that are deleted before the username icon or site achievement is given out will not be awarded the icon or achievement
• Deadline - 30 September 2019 11:55PM GMT +8
---
Prizes
• 1st Prize - 20 Credits & 20 Bites Points
• 2nd Prize - 10 Credits & 20 Bites Points
• 3rd Prize - 5 Credits & 20 Bites Points
All participants will receive an exclusive username icon!