E.T. is on his way home!

But where exactly does E.T. live? Show us what you think E.T.'s home looks like.
---
Activity
• Build your own planet
---
Rules
• One entry per person, multiple entries will be invalid.
• You may use trial BC to build your entry
• Entries that are submitted of any Habbo premade bundles will be disqualified
• Post your entry on the feed with the tag #SpaceExploration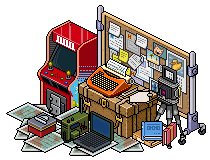 • Screenshot of your room must include your Habbo information
• Entires that are submitted without your Habbo information will be disqualified
• Entries that are suspected of building on a Habbo Retro site, will be questioned and asked for valid proof or entry will be revoked
• Entries & posts that are deleted before the username icon or site achievement is given out will not be awarded the icon or achievement
• Deadline - 21 July 2019 11:55PM GMT +8
---
Prizes
• 1st Prize - 20 Credits & 20 Bites Points
• 2nd Prize - 10 Credits & 10 Bites Points
• 3rd Prize - 5 Credits & 5 Bites Points
All participants will receive an exclusive username icon!