Run flower, run!

Always wondered what it would be like to run from flowers? Well now's your chance!
---
Activity
• Search OutReign in your hotel navigator and go to "[HabboBites] Flower Run" room or click here. You have 3 minutes to avoid the moving flowers and to use the switch. Once successful, enter the teleporter and ensure your name is on the leaderboard.
• Once your name is on the leaderboard, take a screenshot with your habbo information (also showing the leaderboard) with #JuneRun2019
• Please Note: When the leaderboard has 15 people I will place down another. I'll take screenshots of who all entered and place them into the winning article. Winners will be picked at random using a random name picker generator. (Will also post the screenshot of all who entered + names that were picked)
---
Rules
• One entry per person, multiple entries will be invalid.
• Post your entry on the feed with the tag #JuneRun2019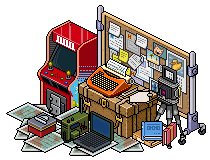 • Screenshot must contain your habbo information as well as the leaderboard
• Entires that are submitted without your Habbo information as well as the leaderboard will be disqualified
• Entries & posts that are deleted before the username icon or site achievement is given out will not be awarded the icon or achievement
• Deadline - 30 June 2019 11:55PM GMT +8
---
Prizes
• 1st Prize - 20 Credits & 20 Bites Points
• 2nd Prize - 10 Credits & 10 Bites Points
• 3rd Prize - 5 Credits & 5 Bites Points
All participants will receive an exclusive username icon!