Mad as a Hatter and twice as twisted!

What does the 10 6 on the Mad Hatter's hat mean?
---
Activity
• Search HabboBites or OutReign on your hotel Navigator and find [HabboBites] Mad Hatter Day or click HERE
• Enter the answer to the question above as the room password (spaces included)
• Once in the room take a screenshot with your Habbo information and post in the thread by clicking HERE
---
Rules
• One entry per person, multiple entries will be invalid.
• Post your entry in the thread with your Habbo information showing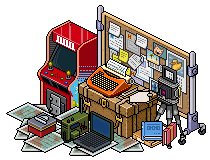 • Entires that are submitted without your Habbo information will be disqualified
• Entries & posts that are deleted before the username icon or site achievement is given out will not be awarded the icon or achievement
• Deadline - 06 October 2019 11:55PM GMT +8
---
Prizes
• 1st Prize - 20 Credits & 20 Bites Points
• 2nd Prize - 10 Credits & 20 Bites Points
• 3rd Prize - 5 Credits & 20 Bites Points
All participants will receive an exclusive username icon/site achievement!