Luck is believing you're lucky!
With Saint Patrick's Day on the 17th I thought what better way to celebrate it with a little spot the difference!
---
Activity
• Spot the 10 differences between two different rooms you will find on habbo by clicking here
Alternatively you can search OutReign on your hotel navigator and go to [HabboBites] Saint Patrick's Day Competition
• Once you think you have all the answers, type xup to get to the gold teleporter & go through.
• You then have 2 minutes to say all of the answers on the red pillow & run through the gates to the green pillow.
• Go through the Outhouse teleporter and get yourself on the leaderboard. (Your name MUST be on the leaderboard in order for your submission to be counted)
---
Rules
• One entry per person, multiple entries will be invalid.
• Your name must be on the leaderboard for your entry to be counted
• Post a screenshot of your habbo information in the leaderboard room on the feed with the tag #StPatricksDay
To do this, upload to imgur.com, right click on the image once uploaded and click copy address. Then click on the picture icon and paste the url.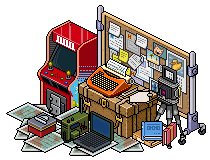 • Entires that are submitted without your Habbo information will be disqualified
• Entries & posts that are deleted before the username icon or site achievement is given out will not be awarded the icon or achievement
• Winners will be drawn by random on Random Lists, will post screenshot in winners article.
• Deadline - 17 March 2019 11:55PM GMT +8
---
Prizes
• 1st Prize - 20 Credits & 20 Bites Points
• 2nd Prize - 10 Credits & 10 Bites Points
• 3rd Prize - 5 Credits & 5 Bites Points
All participants will receive an exclusive username icon