Hey HabboBites members!
Last week, we asked for your views on a website rename. While majority voted on a NO, YES was just short of an additional 3 votes, which means it was a very close race!
We have decided to come up with a second polling exercise. This time, we're asking you to send in your name suggestions, and whether you support the name change. Even if you do not support the name change, you'll still be required to submit a name suggestion.
Will my account be affected?
No. We will simply be renaming HabboBites to another name - but still keeping our existing website functions and user base.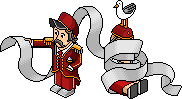 We're hoping that with our new name, we'll be able to start afresh and kickstart our site again! In addition, we'll be going introducing some new features as well.
We've included a form below for you to suggest a new name for HabboBites. Please keep in mind:
- The name must be available (not used by any existing fansites)
- Not offensive in any way
- Be Habbo related
- The abbreviation should be 2 characters, and unused on any other fansites. e.g. HB, FH
- The name should be in English

In the voting process, users can choose to stick with the HabboBites name (simply answer 'No' in the first field) - but we ask that you get creative and send in your suggestions still - since the management will be reviewing all entries.
If you have any concerns, please contact us and we'll be happy to answer your questions.
---
Site Rename Exercise
Sorry, we're no longer accepting entires for this form.