Coinciding with the current summer campaign, images for another upcoming campaign have just been released. The campaign I'm talking about is of course the "Habbolympix" campaign, which is making a return along with this years' Summer Olympic Games, which is being held in Rio de Janiero, Brazil! The campaign is set to be released sometime in August.
As with a couple of other previous campaigns, a couple of the designers have been interviewed about their views on the campaign, discussing the design process as well as showing off a couple of furniture sketches for the new campaign.
Kukuyit talks about his cute vegetable mascot: Vegetable Fiend:
This campaign is all about having a fit and healthy lifestyle, so it made a lot of sense to have a character that promotes that. SO, we introduced Vegetable Fiend! He's been a reoccurring side character in the past few campaigns. If anyone knows where he originated from then you're a true Habbo fan!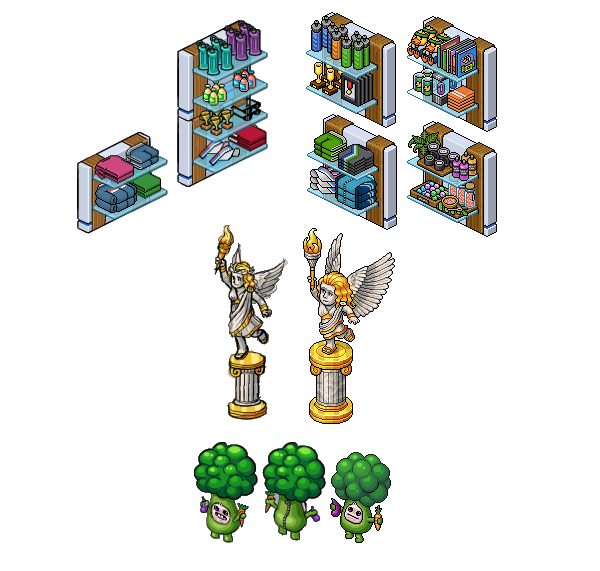 Elementary_Kage gives her views on the new furniture, animation and marketing:
There's a lot of cool animation and functionality in this set of furni and I'm really looking forward to working those fun things into the marketing. The Veggie Fiend and Gym Maniac are cool and I feel like they get me pumped up to work out more. There's also lots of colour, which is always nice!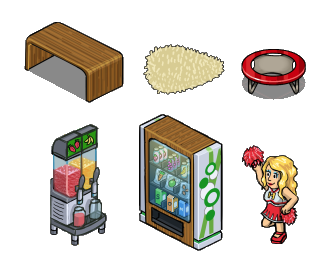 Update: A whole bunch of codes and even more images have been found.
landing.view.lympix16furni.body=On your marks, get set… go! Our BRAND NEW HabboLympix furni line has arrived in the Catalogue, as well as some classic furni.
landing.view.lympix16furni.button=Go see!
landing.view.lympix16furni.header=NEW HabboLympix Furni
landing.view.lympix16bonnie.body=Bonnie Blonde has a new vocation: cheerleading! It's a rare sight to see her in this outfit, and it's available for a limited time only.
landing.view.lympix16bonnie.button=Check it out!
landing.view.lympix16bonnie.header=Rare Bonnie the Cheerleader!
landing.view.lympix16gym.body=Only available for a short time, this furni is totally perfect for any aspiring fitness guru! Exclusive badge included.
landing.view.lympix16gym.button=See the rare!
landing.view.lympix16gym.header=Rare Gym Maniac
landing.view.lympix16smoothie.body=Bringing you smoothies made from the finest pixel fruit in South America, we present the Brazilian Smoothie Maker!
landing.view.lympix16smoothie.button=Go see it!
landing.view.lympix16smoothie.header=Rare Brazilian Smoothie Maker
landing.view.lympix16trophies.body=Now is the time to take your pick from a range of valuable and hard to find trophies! Only available for a limited time.
landing.view.lympix16trophies.button=Check them out!
landing.view.lympix16trophies.header=It's TROPHY Season
landing.view.lympix16vegan.body=Here's a special addition to your rare collection. Vegans are rare enough, but this vegan VENDING machine will hold its value!
landing.view.lympix16vegan.button=Check it out!
landing.view.lympix16vegan.header=Rare Vegan Vending Machine
landing.view.lympix16olympus.body=Habbos! Grab this opportunity to get your hands on this limited edition golden-leafed Miss Olympus statue! Comes with a badge, too.
landing.view.lympix16olympus.button=See the LTD!
landing.view.lympix16olympus.header=Miss Olympus LTD!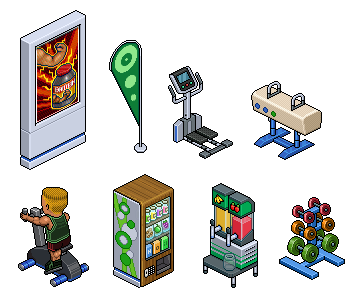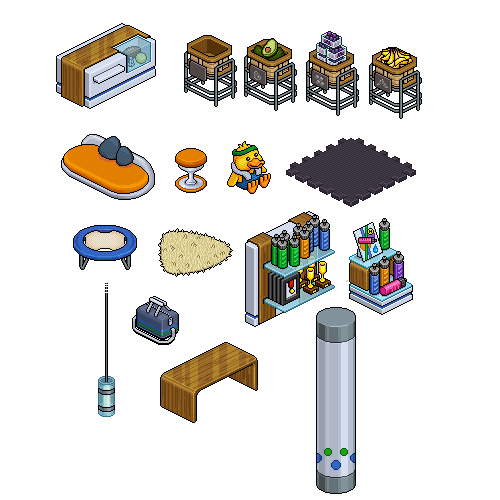 What do you think of the new furnis, and are you excited for the Habbolympics campaign? Let me know in the reactions column!