Welcome to the 158th Weekly Bites!
Here we will recap everything that's been happening on HabboBites as well as feature user-submitted content.
If you would like your content to be featured in the next edition of Weekly Bites, simply click here.
Earn bites points for each content featured in Weekly Bites!
---
Poll
Last month we asked you "Are you ready for Chinese New Year?" and here are the results: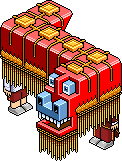 Yes - 14
No - 4
My anxiety is kicking in - 4
My stomach is failing - 7
Both C and D - 7
None of the above - 3
Apologies on the delay on posting these results and we hope that you all had a wonderful Chinese New Year! A new poll question will be up shortly (perhaps it may still be New Year resolution themed?), be sure to answer and find out the results sometime soon!
The End of an Era
As you may have noticed, this edition of Weekly Bites has been incredibly delayed. It is nothing of the ordinary, as if you have been following and supporting Weekly Bites, you would have already noticed that for the last six months that I have consistently struggled posting the articles on time. I would like to apologize as real-life priorities have taken over and it has become incredibly difficult to find time to continue writing the weekly newsie.
I have been writing Weekly Bites for almost 3 years now and it has never been easy for me to do so. I often found myself searching for content and for ways to keep the HabboBites community engaged. I really wish that I did not have to post this inevitable message and love the HabboBites community and fansite with all my heart. What kept me going was the constant support from numerous members of our fansite who loved being featured (and/or exposing others' Silly Speeches) and joining in discussion over the fansite's weekly announcements. I often found myself staying up late at night, sometimes until 3 in the morning, rushing to complete the article as it was often late for the Singaporean timezone.
Unfortunately, I do not believe that I can continue to write Weekly Bites due to numerous reasons, including my own schedule now and the hiatus from other members of the community as well. I do not plan to be resigning from HabboBites as of right now as I am still hoping to be able to engage with you all possibly soon with some radio shows. I would like to take this opportunity to thank the wonderful management team here at HabboBites for always supporting me, putting up with me, and allowing me to have the position to make others smile.
Real life has taken control for many of us here at HabboBites that is understandeable. I am really glad to have been able to have met and interacted with so many wonderful people from across the globe and it is all thanks to HabboBites. Many of us have grown thanks to this fansite and have fought extremely hard for it as well. I would also like to thake this opportunity to thank the amazing community we have here because it would have never been possible to get to this point without all of you. I have developed so many memories over the years being part of this community and I do not regret it at all.
Although these words have been incredibly bittersweet and I really did not wish I would have to conclude the series on a number such as this. I want to take one final moment to thank you all, whomever you are, for reading these articles and for always proving to myself that this was not a waste of time. I have found it incredibly difficult to write out this blurb without naming names (even though many individuals have played a huge part in Weekly Bites). I honestly hope that I can start writing these articles again some day in the future.
---
That's all for our 158th edition of Weekly Bites - we will be back hopefully someday soon!
For more information, refer to our "Introducing Weekly Bites" article.