Let's Go Somewhere Beautiful
Nature is the art of God
---
Step 1
Enter the teleport.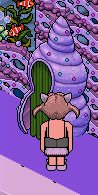 Step 2
Queue up and patiently wait for your turn.
Avoid the moving undersea rocks by standing in the gap.
There are three different stages with increasing difficulty.
You have to gain 10 points in each of the 3 levels. Complete all 3 levels in order to receive your badge.