Available
Easy Bitesy
What a wonderful time it is to grow flowers!
Here's a guide to help you go through every level of the new flower patch achievement!
---
Materials Needed:

1. Seed Packs






These seed packs contain seeds that will be used for growing flower patches. These are available as exclusive items in the bundles that are being released this month, each bundle containing 15. They are also available in the Marketplace, where they range from 5C-8C.

Currently, the available seed packs are the:
• Rose Seed Packs
• Tulip Seed Packs

The next ones will be released in later bundles.

2. Watering Can Effect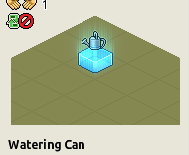 This effect is needed to be able to grow the flowers. Without this, you will not be able to complete this achievement. This is released in each of the bundles, but they can also be found in the Marketplace.

Step 1
Enable the Watering Can Effect.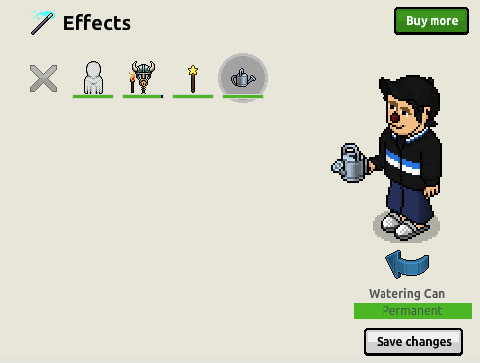 Step 2
Place your seed packs in a room and use them. You will get the seeds shown below.



Step 3
Click the seeds and afterwards click use 12 times. Every click counts as one hit, and this will add up to 12, growing one Flower Patch.
You can see how many Flower Patches you will have to grow for each level in the Achievement Levels shown below.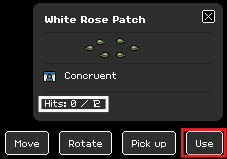 If you were to complete the achievement and reach the 10th level, it will take you 80 Flower Patches to grow,
meaning you will have to click Use at least 980 times.

Sometimes, it is possible that your seeds will die, and they will turn into a Grubby Weed. Once your seeds have became a Grubby Weed,
you cannot use them anymore to continue your process of growing Flower Patches



Achievement Levels

Level 1: Grow 1 Flower Patch. 



Level 2: Grow 5 Flower Patches.



Level 3: Grow 10 Flower Patches.



Level 4: Grow 20 Flower Patches.



Level 5: Grow 30 Flower Patches.



Level 6: Grow 40 Flower Patches.



Level 7: Grow 50 Flower Patches.



Level 8: Grow 60 Flower Patches.



Level 9: Grow 70 Flower Patches.



Level 10: Grow 80 Flower Patches.