Wow it's been 5 years
Let's get this bre- badge!
---
Step 1
Attend the session by making your way to the Ambassador Hub.
Enter the teleport to access the poll.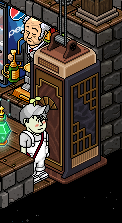 Step 2
Answer the poll that appears.
NOTE: We are not allowed to give answers on the guide. You will receive your badge when you have gotten everything right.
Sessions
27th October
AU/NZ Session
Time: 8PM EDT (26th October) / 1AM BST / 11AM AEDT
Singapore: 8AM
Location: Ambassador Hub
27th October
USA/CA Session
Time: 11AM EDT / 3PM GMT / 2AM AEDT (28th October)
Singapore: 11PM
Location: Ambassador Hub
27th October
UK/EU Session
Time: 4PM EDT / 8PM GMT / 7AM AEDT (28th October)
Singapore: 4AM (28th October)
Location: Ambassador Hub