With 'Catch Duckie' being one of Habbobite's main game feature, we have revised it in hopes that it will make this feature much more appealing to our mature and newer communities here on Habbobites.
So, what changed?
---
1. Higher odds of catching Duckie
Duckie will now appear much more frequently than before. This means that if Duckie is still a myth to you, no worries - you are bound to catch Duckie sooner or later!
2. Variations of Duckie
Introducing 5 new duckies into the team - Afro Duck, Scuba Duck, Skeleton Duck, Zombie Duck and Mystic Duck! We did not remove our beloved Habbobites Duckie in the process.
Duckie - Common
Afro Duck - Uncommon

Scuba Duck - Uncommon
Skeleton Duck - Rare
Zombie Duck - Scarce

Mystic Duck - Legendary
3. Awarding Bite Points
Catching the different variations of Duckie will give you certain bite points. Catch more Mystic Ducks to get more points!
Duckie - 1 bite points
Afro Duck - 2 bite points

Scuba Duck - 2 bite points
Skeleton Duck - 3 bite points
Zombie Duck - 4 bite points

Mystic Duck - 5 bite points
4. Collections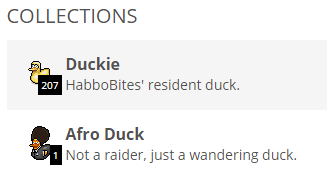 Now that everytime you catch a Duckie, it will be reflected on your profile! A number will also be shown corresponding to the number of Duckies you have caught.
Collect all 6 Duckies for your profile collection.
---
With all that said, are you ready to catch the new Duckies?
If you are not familiar with the game, check out our guide over here - Have You Seen Duckie?
Have fun!