WINNERS
1st Place - Atalyn1804
2nd Place - Taiwanasian
3rd Place - chewyybarr
Everyone else who participated will receive a jerry can username icon! These people are Princehooligan, Audemars, Kreasa, Seth, Outsee, Larry, anxs, Fuzed and Galaxy!
---
Soldiers are often under scrunity for many things. Some might say that soldiers incite violence, waste taxpayer's hard-earned cash and are pawns of the government.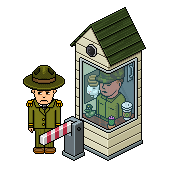 Soldiers are also symbolic of national defense and security, and are mainly deployed to give hope to people who desperately needs them. Soldiers do not only engage in warfare, but also international disasters aid and rescue operations (ie hijacked planes).
For this week, Habbobites is celebrating and thanking all the soldiers around the world, in light of the NS50 celebrations that Singapore is having.
---
Thanking our Soldiers
Use any means necessary to show appreciation to soldiers. This can be in a form of -

Hand-drawn artwork ; and/or
Graphic artwork ; and/or
Written note/message ; and/or
Room design.
Simply post your appreciation entry in the feed and hastag your post #soldieron so that we can find your post!
Prizes
I will look at all the entries and pick 3 most heartfelt/creative appreciation posts.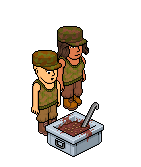 1st Place - 15 Habbo Credits + 30 Bite Points
2nd Place - 10 Habbo Credits + 20 Bite Points
3rd Place - 5 Habbo Credits + 10 Bite Points
All other participants will receive a special soldier username icon!
Competition starts on 14th Aug (Mon) and ends on 20th Aug (Sunday).