Time to get some cupcakes!

Are you sweet as a cupcake? Let's find out.
---
Activity
• Buy or make a cupcake real life (nothing too expensive)
• Take a picture of your cupcake and post it on the feed wall describing what kind it is and why you got it.
---
Rules
• One entry per person, multiple entries will be invalid.
• Entries that are submitted of any images on google will be disqualified
• Post your entry on the feed with the tag #HBSweetCupCake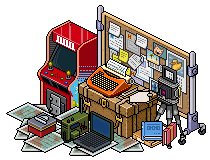 • Snapshot needs to include what kind of cupcake it is and why you bought/made it (saying 'for this comp' is not valid)
• Entires that are submitted with less than a sentence will not be counted
• Entries & posts that are deleted before the username icon or site achievement is given out will not be awarded the icon or achievement
• Deadline - 16 June 2019 11:55PM GMT +8
---
Prizes
• 1st Prize - 20 Credits & 20 Bites Points
• 2nd Prize - 10 Credits & 10 Bites Points
• 3rd Prize - 5 Credits & 5 Bites Points
All participants will receive an exclusive username icon/site achievement!(TBD)