Love your pets!

We can't deny our pets make our lives happier, so either you got a pet cat, dog, turtle, balloon, we want you to share them with us.
---
Activity
• Take a picture of your pet (you don't need to be included in the picture) Or your habbo pet IF you don't have one irl
• Post on the HabboBites feed wall.
---
Rules
• One entry per person, multiple entries will be invalid.
• Entries that are submitted of a pet picture from google will be disqualified
• Post your entry on the feed with the tag #HBLovesPets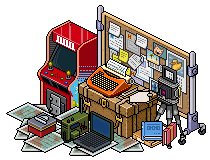 • Entries must include pet's name and why you love them (more than 1-2 words long)
• Entries & posts that are deleted before the username icon or site achievement is given out will not be awarded the icon or achievement
• Deadline - 14 April 2019 11:55PM GMT +8
---
Prizes
• 1st Prize - 20 Credits & 20 Bites Points
• 2nd Prize - 10 Credits & 10 Bites Points
• 3rd Prize - 5 Credits & 5 Bites Points
All participants will receive an exclusive username icon/site achievement! (TBD)