Calling all Romantics!

Valentines day is just around the corner and who isn't already plannig their perfect date?
---
Activity
• Build or draw your perfect valentines day date.
• Include a short paragraph explaining your perfect date.
---
Rules
• One entry per person, multiple entries will be invalid.
• Builders Club and trial can be used.
• Entries that are submitted of any Habbo premade bundles or someone elses drawings will be disqualified
• Post your entry on the feed with the tag #perfectdate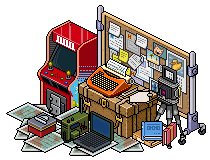 • Screenshot of your room must include your Habbo information.
• Entires that are submitted without your Habbo information will be disqualified,
• Drawings must be signed with your Habbobites username
• Entries that are suspected of building on a Habbo Retro site, will be questioned and asked for valid proof or entry will be revoked
• Entries & posts that are deleted before the username icon or site achievement is given out will not be awarded the icon or achievement
• Deadline - 10 February 2019 11:55PM GMT +8
---
Prizes
• 1st Prize - 20 Credits & 20 Bites Points
• 2nd Prize - 10 Credits & 10 Bites Points
• 3rd Prize - 5 Credits & 5 Bites Points
All participants will receive an exclusive username icon