"Behold the turtle. He makes progress only when he sticks his neck out."

You can find them in the shallow seagrass beds of the Indian Ocean, the colorful reefs of the Coral Triangle, and even the sandy beaches of the Eastern Pacific, sea turtles are a fundamental link in marine ecosystems.
---
Activity
• Guess the password to the locked room linked below by answering the question. (Clicking the question will take you to the room)
• Once in the room, take a screenshot of your habbo in the turtle room.
---
Rules
• One entry per person, multiple entries will be invalid.
• Post your entry on the feed with the tag #hbturtleday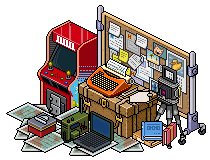 • Screenshot of room must include your Habbo information
• Entires that are submitted without your Habbo information will be disqualified
• Entries & posts that are deleted before the username icon or site achievement is given out will not be awarded the icon or achievement
• Deadline - 26 May 2019 11:55PM GMT +8
---
Prizes
• 1st Prize - 20 Credits & 20 Bites Points
• 2nd Prize - 10 Credits & 10 Bites Points
• 3rd Prize - 5 Credits & 5 Bites Points
All participants will receive an exclusive username icon!