Calling all book lovers!

Sundays are cuddling up with a good book, letting your mind get lost in the adventure of the plot line, and not leaving your bed unless it's for snacks. Now it's time to let your creative juices flow and think about what you would write your own book on!
---
Activity
• Create your own book
• Pick a creative title and write a brief summary on the plot of your book.
---
Rules
• One entry per person, multiple entries will be invalid.
• Entries that are submitted of any Habbo premade bundles will be disqualified
• Post your entry on the feed with the tag #worldbookday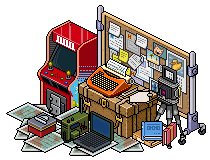 • Entries & posts that are deleted before the username icon or site achievement is given out will not be awarded the icon or achievement
• Deadline - 10 March 2019 11:55PM GMT +8
---
Prizes
• 1st Prize - 20 Credits & 20 Bites Points
• 2nd Prize - 10 Credits & 10 Bites Points
• 3rd Prize - 5 Credits & 5 Bites Points
All participants will receive an exclusive username icon