There are 5 official game rooms that are created by users. When you have completed them successfully, you will get a Game Hub Sloth!
The February User Game of the Month is awarded to ... *drumrolls*

None other than ::sunny::, one of the co-founders of Habbobites! :D
---
Room Owner: MOD-Xebal
Room Name: [::sunny::] – Hippo Invader
"Frank chose the sloth for 2016's Rare Furni, the Hippos are outraged and is now invading Habbo! Stop the invasion NOW!"

Upon completion of this room, you'll get a Hippo Invader badge!
---
Room Owner: MOD-Xebal
Room Name: [osi30NO] – The Apocalypse
Room Owner: MOD-Xebal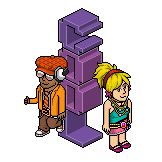 Room Name: [Otvangst]-µ-Battleball
Room Owner: MOD-Xebal
Room Name: [Terregan] Snowboarding Superstar
Room Owner: Mod-Xebal
Room Name: [Snotlout] Ratrace
---
Have fun! ^-^