Hey there! I see you've found this article.

If you're new here, do read on as I'll tell you why HabboBites is a fansite you should definitely subscribe with! Once you're done, scroll all the way down for a little treat - get your first 100 Bites Points for free!
---
1. Innovation Hub
HabboBites shares similar fansite features with other fansites such as the forum icons and VIP subscription.
But did you know that HabboBites was the 1st official fansite amongst its batch to implement the following features - wearable username icons, points shop, valentines kisses, catch duckie, the feed wall, creations tool and so much more!
And, we're not done yet! Do look out for future features that you probably have never seen on any current official and unofficial fansites.
2. Easy Bite Points
Unlike most fansites, we reward users who are active with us and you don't even have to pay a sardine!
We have avenues such as 'Reward Listeners' programme, 'Guess Who' and 'Submit your content' on top of regular site competitions like 'Canvas of the month' and in-game Habbo events for you to earn easy Bite Points!
If you do decide to donate to HabboBites, we got you covered. You'll gain access to the super secret Supporters Hub for extra goodies!
3. Lit Events
Though we are currently unofficial and have a humble beginning, our events are almost always lit.
We have an amazing team of event hosts and they sometimes plan events with huge a payload (ie goldbar, HC etc). These events will almost always top the navigator on Habbo!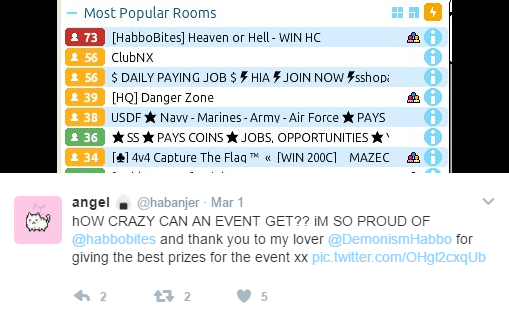 With the upcoming Engagement and Competitions team, look forward to more frequent on-site and in-game site competitions and campaigns to keep you guys entertained! Prizes for such events are also higher than our usual events.
If you want to check out our previous site competitions and campaign, why not give the Jungle Campaign and Story of Hubert a read.
4. Humble and Close-knitted Community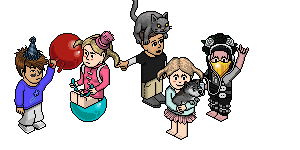 You have to experience this yourself. We celebrate our own progress, even if its small, and enjoy every step of the way. Our dedicated staff team also commits their hardest to make HabboBites as best as it can be.
If you're new, DON'T BE AFRAID TO POST ON THE FEED OR FORUMS. Don't be intimidated by people like Funkyhabbo or House. They might seem scary but they're actually really nice!
5. FREE Welcome Gift
Congratulations on making it through the article!
If you decide to register with us, I've got a treat for you! After you have signed up, fill up the form in this article and I will be personally rewarding you 100 Bites points to spend in the Bites shop! A small welcome gift on my part.

*Only valid to users who register with us the same month and year they submit their entry*
Hope to see you around!
---
Claim your Bites Points
You need to be logged in to participate.