Some of you guys have 10 left feet!
Ain't everybody got the rhythm.
---

1st Prize
Stargirl420 wins 20 Credits & 20 Bite Points for her jump away from the Canadian stereotype!

Being a Canadian, you'd think my favourite way to consume fries would be in poutine.. and it was, until recently. This place down the road called Fast Eddie's, their specialty is "crazy fries" ...aka... CHILLI CHEESE FRIES ;O I honestly never thought I'd like them because I Don't like chilli.... but I could eat a BUCKET of their chilli cheese fries! If you can, you HAVE to try them!!!
2nd Prize
Erick wins 10 Credits & 10 Bites Points for his cheesey fries!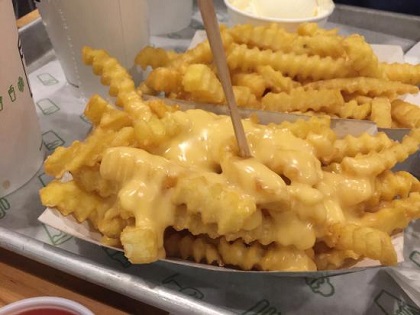 3rd Prize
DiazoVitrol wins 5 Credits & 5 Bites Points for some nice tasting fries! (You teased us with no pic!)

My favourite type of fries would have to be Genki Sushi's Mentaiko Fries. Fight me on this, but I think Fries + Mentaiko Sauce is like match made in heaven. Nothing could ever beat the delectable sauce glazed over those crispy fried potatoes. Wish I had a picture of it with it, but perhaps next time I'll share it with y'all.
---
All participants will receive an exclusive username icon!

NOTE: Prizes expire on the 22nd July 2019, please collect your prizes from Audemars by then.