Welcome to the 110th Weekly Bites!
Here we will recap everything that's been happening on HabboBites as well as feature user-submitted content.
If you would like your content to be featured in the next edition of Weekly Bites, simply click here.
Earn bites points for each content featured in Weekly Bites!
---
Random Recommendations
We Must Love by ONF

The beat is really catchy and it sounds like a mainstream song but I find it very noice. Also their voices are a bit different to what I usually hear from male idol groups so it's cute hehe. Check out the song over here. (And since you're here, listen to Complete by ONF :~) )
This week's random recommendation was submitted by Jamie.
Silly Speeches
This week's silly speech was submitted by Gina.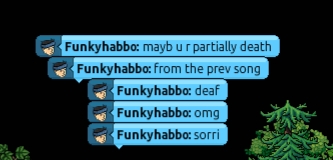 What a good ____!

It's time for another drawing competition and this week you are tasked with drawing your dream pet animal! To score the cute site icon, all you need to do is post your drawing on the feed with the tag #loveyourpets. You can check out the competition article over here, and do not forget that some dreams can eventually come true!
Radio Review
The top requested song on the HabboBites radio this past week was Dalla Dalla by ITZY. This was part of the group's debut on February 12th, 2019, as the lead single for the group's extended play It'z Different. Our community is definitely hooked on this unique and catchy song from JYP Entertainement's new girl group!
Make sure to keep on sending in requests to our amazing DJs on air and perhaps you will see a return of our weekly Top Ten Countdown radio competition, so stay tuned!
Poll
Last week we asked you "Has Funkyhabbo ever followed you on Habbo and then idled in the room's doorway without saying a word?" and here are the results:
Uhh... - 7
Yes... - 5
Frequently - 0
I'm scarred - 9
All of the above - 15
None of the above - 6
Good thing the HabboBites community can also provide theraputic support to all of those who are not yet comfortable with what our lovely owner and developer would call his "magic making processes." A new poll question will be up shortly, be sure to answer and find out the results next week!
HabboBites Screenshots



---
That's all for our 110th edition of Weekly Bites - we will be back .
Remember, you can submit your own content to be featured in future editions of Weekly Bites and be rewarded for it!
For more information, refer to our "Introducing Weekly Bites" article.