Welcome to the 140th Weekly Bites!
Here we will recap everything that's been happening on HabboBites as well as feature user-submitted content.
If you would like your content to be featured in the next edition of Weekly Bites, simply click here.
Earn bites points for each content featured in Weekly Bites!
---

Gina the Great!
For those of you that are hearing impaired, oblivious, or have limited access to an internet connection, Gina has been recently promoted as Assistant Manager of our Campaigns & Competitions Department! She is a dedicated member of our C&C, Events, Radio and Building departments here at HabboBites and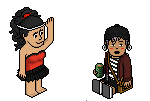 we are eager to see what she will cook up!
Right, we forgot the other guy.
Sorry about that. We also have a new Content Manager and we already forgot his name for some reason. What was it again? Oh, you say it's Princehooligan? Really? We better congratulate our long-time member of the content team. He has posted numerous helpful badge guides here at HabboBites and is even rumoured to possess secret badge event skills.
Poll
Last week we asked you "Pop quiz, who framed Roger Rabbit?" and here are the results:
Bugs Bunny - 2
Donald Duck - 1
Jessica Rabbit - 6
Mickey Mouse - 1
Who? - 6
None of the above - 5
Well, we may have thought that more of you would have understood this week's pop quiz but we were mistaken... A new poll question will be up shortly, be sure to answer and find out the results next week!
Member Spotlight

With a Twice comeback just around the corner, I was able to witness the re-emergence of the one and 'only' Bryan into society and fortunately, he agreed to share some insight on his return to the HabboBites staff team. When I asked him why he chose to do so, he eagerly responded: "Well, I had some spare time currently so I decided to rejoin back to the awesome team to provide some helping hand for the content updates." What an interesting response and I quickly asked him if he was excited to work for Princehooligan. He replied: "yes definitely especially he's a manigur right now." I wonder if that response is a secret code for something as I have no idea what it could mean. Before I could ask anything more, he instantly vanished and is said to reappear in due time.
You can check out his profile here and stay tuned for another Member Spotlight very soon!
Silly Speeches
This week's silly speech was submitted by Princehooligan.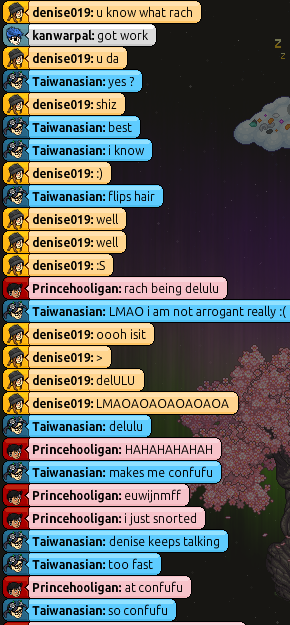 Time for a Supermarket Stack!
Or a supermarket snack, am I right..? I hope there was not any awkward silence there as this week's site competition grants you the opportunity to earn yourself the amazing Ice Cream Scoop icon. All you need to do is construct a miniature supermarket within a questionably-confined space. Perhaps you will even get a snack attack..? For more information, check out the main article over here.
Delicious Delights
After we announced this brand-new segment last week, we were incredibly shocked to have already received submissions (two more than expected to be exact)!
This week's delicious delights are submitted by Princehooligan, [left]
"Here's a very nice plate of fried rice. I had this in a restaurant in a resort in Ipoh, Malaysia."
Rachy, [middle]
"* Traditional Tokyo ramen noodle shoyu (consists of belly pork, gyoza, beansprouts, wakame, carrots & spring onion in a traditional soy sauce-based soup, and served with thin ramen noodles)
* The other ramen soup (top middle) is a spicy version of it with chilli flakes and chilli oil added into it
* Chicken teriyaki (chicken marinated in the restaurant's own teriyaki sauce)
* Tempura prawn mix (consists of a selection of vegetables & giant prawns tempura)
* Chicken gyoza (consists of chicken & vegetables in a pasta shell)
* Takoyaki dumplings (consists of octopus dumplings topped with bonito flakes, sauce and QP mayo)"
and Denise. [right]
"here some egglet which I got from a street stall in Hong Kong"
---
That's all for our 140th edition of Weekly Bites - we will be back .
Remember, you can submit your own content to be featured in future editions of Weekly Bites and be rewarded for it!
For more information, refer to our "Introducing Weekly Bites" article.