Welcome to the 146th Weekly Bites!
Here we will recap everything that's been happening on HabboBites as well as feature user-submitted content.
If you would like your content to be featured in the next edition of Weekly Bites, simply click here.
Earn bites points for each content featured in Weekly Bites!
---
Canvas Madness

There are only a few days left to submit your entries for this month's terrifying canvas madness theme. By clicking here, you are able to participate in our completely free competition in order to win the exclusive site icon (and perhaps the satisfaction of out-spookifying you know who..).
Member Spotlight

In anticipation of this week's upcoming holiday, I was able to encounter the one and only Sary in a space that between and beyond reality. Fortunately enough, I somehow managed to convince her to chat with me and share her numerous terrifying recommendations. I pleaded with her to take pity on our community and share her insights for those who are determined on hunting down skulls throughout HabboBites. She quickly responded: "To all those that are currently trying to catch skulls, don't bother trying. Princehooligan manages to catch ALL OF THEM. GIVE UP WHILE IT IS STILL EARLY." I was astonished to hear such a response! How is she aware of these details? After being stunned momentarily by her answer I implored her to share with us any other advice for this upcoming Halloween. She replied: "In Habbo, if there is a rare clothing release, remember to buy multiple units to stock up. In real life, if you're on Habbo during Halloween, please GET OFF AND GET OUT AND PARTY. 🙂" Prior to my sudden warp back to reality, she said: "Have a happy halloween everyone hehe." and like that, I will not be sleeping anytime soon.
You can check out her profile over here, and stay tuned for more Member Spotlights in the future!
Silly Speeches
This week's silly speeches were submitted by Princehooligan,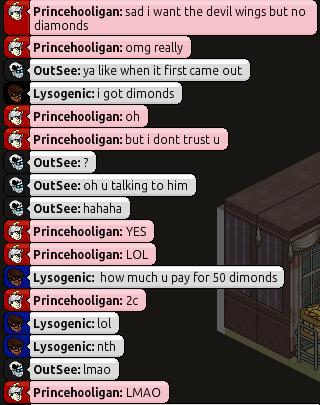 Denise,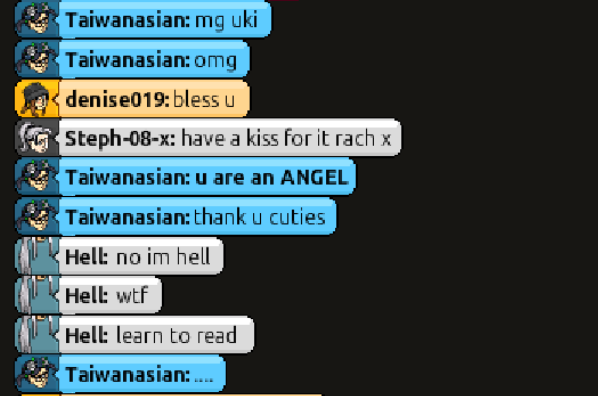 and Princehooligan again.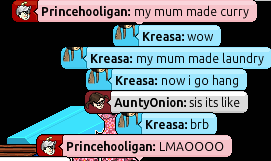 Poll
Last week we asked you "Does skull catching stress you out?" and here are the results:
Yes - 0
Incredibly - 3
Not Really - 5
I'm indifferent - 7
None of the above - 3
It is quite obvious that some people are refraining from answering this week's poll due to the sheer Halloween-related amnesia that they are encountering. A new poll question will be up shortly, be sure to answer and find out the results next week!
A live event?!
This is a toned down version of my response when I found out that HabboBites will be hosting an hour-long live Habboween event with WaltzMatilda that you totally don't want to miss out on. Just ask Princehooligan.
HabboBites Screenshots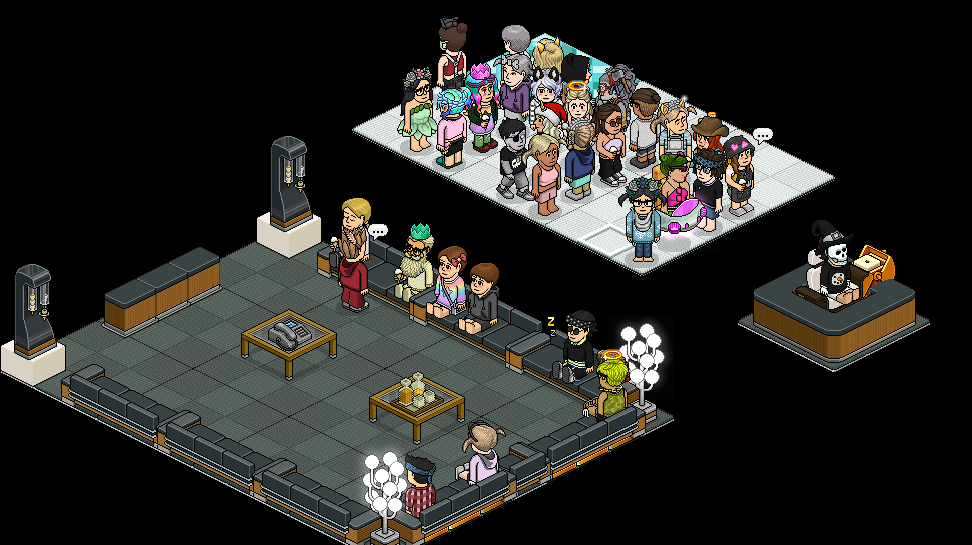 ---
That's all for our 146th edition of Weekly Bites - we will be back .
Remember, you can submit your own content to be featured in future editions of Weekly Bites and be rewarded for it!
For more information, refer to our "Introducing Weekly Bites" article.