Beanbags are so comfortable!
Unless you're being chased by fire.
---
Step 1
Wait in line for your turn.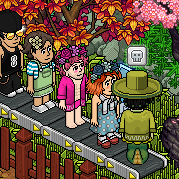 Once in the game, you have a minute to complete the following.
Sit on the beanbag highlighted in green three times to receive your badge. The beanbags only appear along the fences.
Avoid the fire that will spawn in a row along the sides. You will teleport out when hit.