Welcome to the 113th Weekly Bites!
Here we will recap everything that's been happening on HabboBites as well as feature user-submitted content.
If you would like your content to be featured in the next edition of Weekly Bites, simply click here.
Earn bites points for each content featured in Weekly Bites!
---
Top of the mornin'!

It's time to test your luck on our competition in anticipation of St. Patrick's Day! While maintaining an appropriate amount of sobriety from the devil's nectar, head on down to a Spot the Difference room created by the amazing Gina. Everybody who correctly solves the puzzle will recieve the brand-new Leprechaun Hat icon (designed by Stacey). For more information, check out the main article over here.
Random Recommendations
Drama Queen by Milk.
The song is really good, even if it did take some time for me to like it. The lyrics itself are super #relatable because I am indeed a drama queen and this is a direct attack on me confirmed.
This week's random recommendation was submitted by Jamie.
Poll
Last week we asked you "Do you think it will ever snow in Singapore?" and here are the results:
No - 4
Definitely not - 1
The world will end first - 12
One can dream - 10
All of the above - 4
No again - 0
It seems that our community is quite certain that it will never, ever, snow in Singapore and if it does it is a sign that the planet is falling apart. I am glad that this has been established. A new poll question will be up shortly, be sure to answer and find out the results next week!
Silly Speeches
This week's silly speech was submitted by Jamie.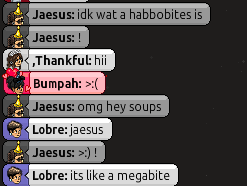 HabboBites Screenshots



---
That's all for our 113th edition of Weekly Bites - we will be back .
Remember, you can submit your own content to be featured in future editions of Weekly Bites and be rewarded for it!
For more information, refer to our "Introducing Weekly Bites" article.