Welcome to the 152nd Weekly Bites!
Here we will recap everything that's been happening on HabboBites as well as feature user-submitted content.
If you would like your content to be featured in the next edition of Weekly Bites, simply click here.
Earn bites points for each content featured in Weekly Bites!
---
Silly Speeches
This week's silly speech was submitted by Princehooligan.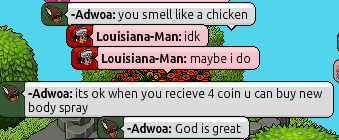 Poll
Last week we asked you "Have you ever constructed a snowman?" and here are the results:
Yes - 11
No - 3
It does not snow here - 7
I am from Singapore - 12
In my dreams - 3
None of the above - 0
Glad to see that many of our community members have been able to feel the dread of cold art. A new poll question will be up shortly, be sure to answer and find out the results next week!
Are you too scared to check?
After a long wait, the results from our Lynchtober Halloween campaign have been announced! You can check them out over here.
Chris, who?
Oh you mean Kris Kringle..! Wait, who is that again? Perhaps you know their identity? Check out our most recent site competition over here and don't forget to post your best guess. After all, Chris could be any one of us.. All participants can pick up a cool site icon and some awesome prizes as well.
---
That's all for our 152nd edition of Weekly Bites - we will be back .
Remember, you can submit your own content to be featured in future editions of Weekly Bites and be rewarded for it!
For more information, refer to our "Introducing Weekly Bites" article.