Welcome to the 153rd Weekly Bites!
Here we will recap everything that's been happening on HabboBites as well as feature user-submitted content.
If you would like your content to be featured in the next edition of Weekly Bites, simply click here.
Earn bites points for each content featured in Weekly Bites!
---
The bells are still jingling!
It's still not too late to participate in our Kris Kringle competition! Head on over here for more information as you can score yourself some awesome prizes and a cute site icon.
Poll
Last week we asked you "Do you like milk and cookies?" and here are the results:
Yes - 18
Of course - 5
Depends - 3
Sometimes - 2
No - 1
None of the above - 3
It is absolutely astonishing to see that one person does not like cookies! There is probably quite the long backstory associated with their reasoning. A new poll question will be up shortly, be sure to answer and find out the results next week!
Silly Speeches
This week's silly speeches were submitted by Princehooligan.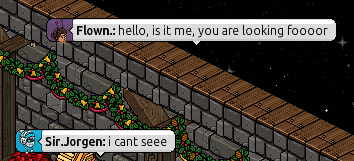 ---
That's all for our 153rd edition of Weekly Bites - we will be back .
Remember, you can submit your own content to be featured in future editions of Weekly Bites and be rewarded for it!
For more information, refer to our "Introducing Weekly Bites" article.