Welcome to the...

Here we will recap everything thats been happening on HabboBites as well as feature user-submitted content. We would like to thank you for your continuous support since this would not be possible without the HabboBites community! Please continue reading below for a special of edition Weekly Bites.
If you would like your content to be featured in the next edition of Weekly Bites, simply click here.
Earn bites points for each content featured in Weekly Bites!
---

We have prepared some statistics including overall support and a few of the many reoccuring segments. All numbers are from editions #1 through #99 therefore not including entries to segments featured in this week's edition.
Total number of comments on Weekly Bites articles: 333
Total number of Fashion Frenzy outfits: 94
Total number of Hidden Hideout entries: 30

Total number of Ask the Staff answers given: 129
Total number of Member Spotlights: 12
Total number of Silly Speech entries: 109
Silly Speech Statistics
We have also calculated the top 5 number of submissions and their respective members who continuously supported one of Weekly Bites' most popular segments! They are as follows:
1.

Jamie - 28 submissions
2. Seth - 15 submissions
3. Princehooligan - 12 submissions
4. Rachy - 10 submissions
5. Audemars & Sary (tied) - 5 submissions
---
Ask the Staff
In celebration of this Weekly Bites milestone, we asked the staff "Which Weekly Bites article published so far is your favourite and why?", here are some of the responses:
Weekly Bites #21 because amazing silly speech 10/10 would recommend; #41, #45, #46 and #67 BECAUSE SILLY SPEECHES, ALL SILLY SPEECHES. - Jamie
Weekly Bites #92 1. The silly speeches made me laugh 2. There's me :))))) - Denise
#92 and #91 for sure the silly speeches made me giggle - Clara
#69 because it reminds me of better times and my pic is in that article, ok that's all. Also this one time at band camp… - paddleboard

i love em all, whenever a new one is published another one bites the dust - Funkyhabbo
Weekly Bites #81 after reading lots of yur content i was shookt i was finally in itttttt - Zen
Weekly Bites #97 because there was me as featured member what even!!!! - Ryu
#1 bcs it number 1 - Sary
My fav was number #66 because I was eating a chocolate cookie when I read it - Kingdoms
I thought for so long with this question because I was so lazy to go through all the weekly bites but I did FINALLY. This question was more onerous than I thought it would be as I could not pick just 1 weekly bites. Weekly Bites #20 was iconic because of my silly speeches and also bitesvision!!! Then there's Weekly Bites #52 which is iconic too because BitesVision and Sary won!!! Weekly Bites #54 is just very disturbing because Seth having un-coordinated fats is just concerning. Weekly Bites #62 because I was mentioned. Omg there's 3 more I have to talk about. Okay Weekly Bites #64 because April Fools and FunkyHabbo tricked us yet again. Weekly Bites #65 because WTFacts was WTF. Lastly Weekly Bites #74 cause Random Rock made its first appearance!!! Okay this was tiring. Goodbye. - Princehooligan
Weekly bites #91 because it has the best silly speeches 😃- Jovi
I choose Weekly Bites #69!! Just the number idk what's in actual article LOL - Jamesy
#18 - Because I think it was my first ever time being involved in it. #30 - Because it was when Larry (user Demonism) was still with us, and I miss him being here, as he, Audemars and I would share our humorous dirty minds together (check screenshot in it). #37 - Because the cute sunset-colored username came out in the Bites Shop. #40 - Because it user Kord in it (I miss him), and my old event room designs which have now changed to a specific theme. #43 - Because 'A Silent Voice' was recommended by Harriet, and being a partially deaf person myself who works with children who use sign language and makaton, I fully felt that film. I'm glad she recommended it! #44 - Because 'The Boy in the Striped Pajamas' was recommended by Angelina, and I totally loved that film and agree with her! #48 - Because Audemars was so hungry that she was gonna find some 'foot', yum. #52 - Because I had built my 'Up'-themed Pixar event room the night before the room screenshot was published, and that was a fun challenge (I still hate the roof though). #69 - Because we love 69. Right?! I know Jamesy does. #83 - Because Audemars asked if everyone knew how to 'pray', hehehe. - Rachy
Fashion Frenzy
After another incredibly long hiatus, Fashion Frenzy is returning once again in celebration of this Weekly Bites' milestone! The theme for next week is "Old People in Video Games" so get creative and start dressing up!
Member Spotlight
I am happy to announce that after an incredibly long conquest to the middle world, which includes battling monsters, solving puzzles, and sending pictures of doggos, Funkyhabbo finally agreed to sit down and speak with me. First off, I had to ask the most important question which we have all been wondering: What makes him so funky? He looked at me and replied: "my eyes... they're one of a kind." What an interesting response indeed! I a

sked him if he had anything he wanted to share with the HabboBites community. He responded: "hm, there is this dog in my camp... she would poop and then eat her own poop. anyway the message i wanted to share was reduce, reuse and recycle. Peace out everybody."
"But wait!" I yelled, "you never told us where's Stanley?" He turned back at me and said: "stanley does not eat his poop fortunately but i got him treats from Hokkaido and he loveddd it." I was shocked, when did he go to Japan? I asked him this question and to share with me some of his adventures on his trip. He smiled and answered: "the views were great, almost froze to death cos i saw snow for the first time, idk how people survive snow... thank god im hokkaido." I facepalmed and walked away.
You can check out his profile here, and stay tuned for more Member Spotlights in the future!
Poll
Last week we asked you "How prepared are you for the holidays?" and here are the results:
Super - 13
Somewhat - 10
Not really - 5
Define 'prepared' - 5
Uh... - 8
None of the above - 4
Glad to hear that the majority of the community is at least thinking about the upcoming holidays. A new poll question will be up shortly, be sure to answer and find out the results next week!
Drinking tea is drama free
It's time for another building competition this week and you are tasked with building a tea room using some furni from the Japan or Danish Hygge funi lines. Perhaps you could use you room as your secret gossping hangout? They will never know... Check out the competition article here for more information!
Silly Speeches
This week's silly speeches were submitted by paddleboard,

Princehooligan,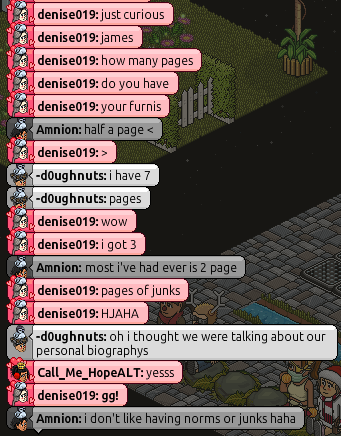 and myself.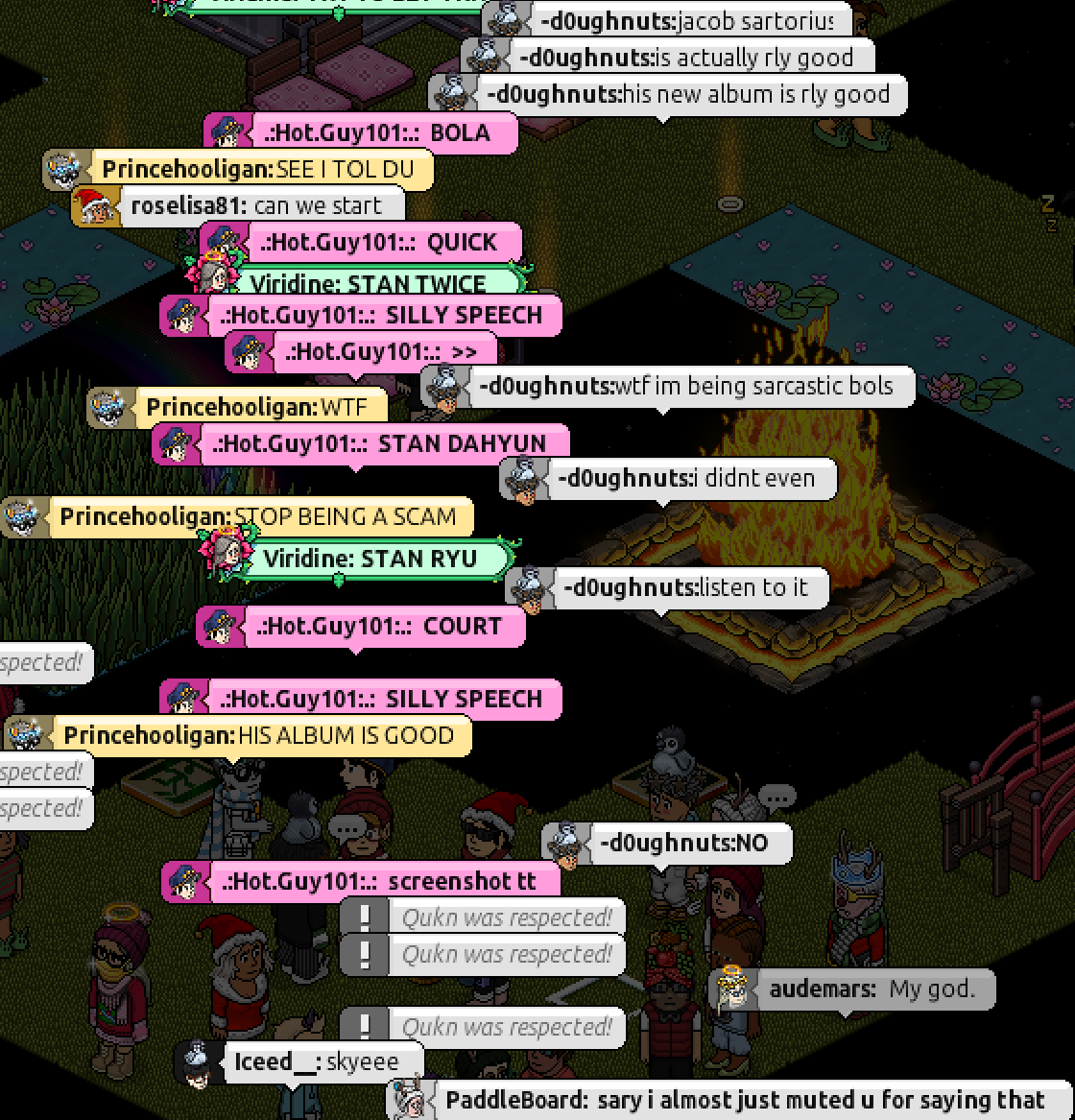 What about you?

We want to know what you think about Weekly Bites so far as we have reached this amazing milestone! Share with us your favourite part/moment in any Weeky Bites article or about Weekly Bites in general in the form below in order to win a site achievement designed by Jamie!
HabboBites Screenshots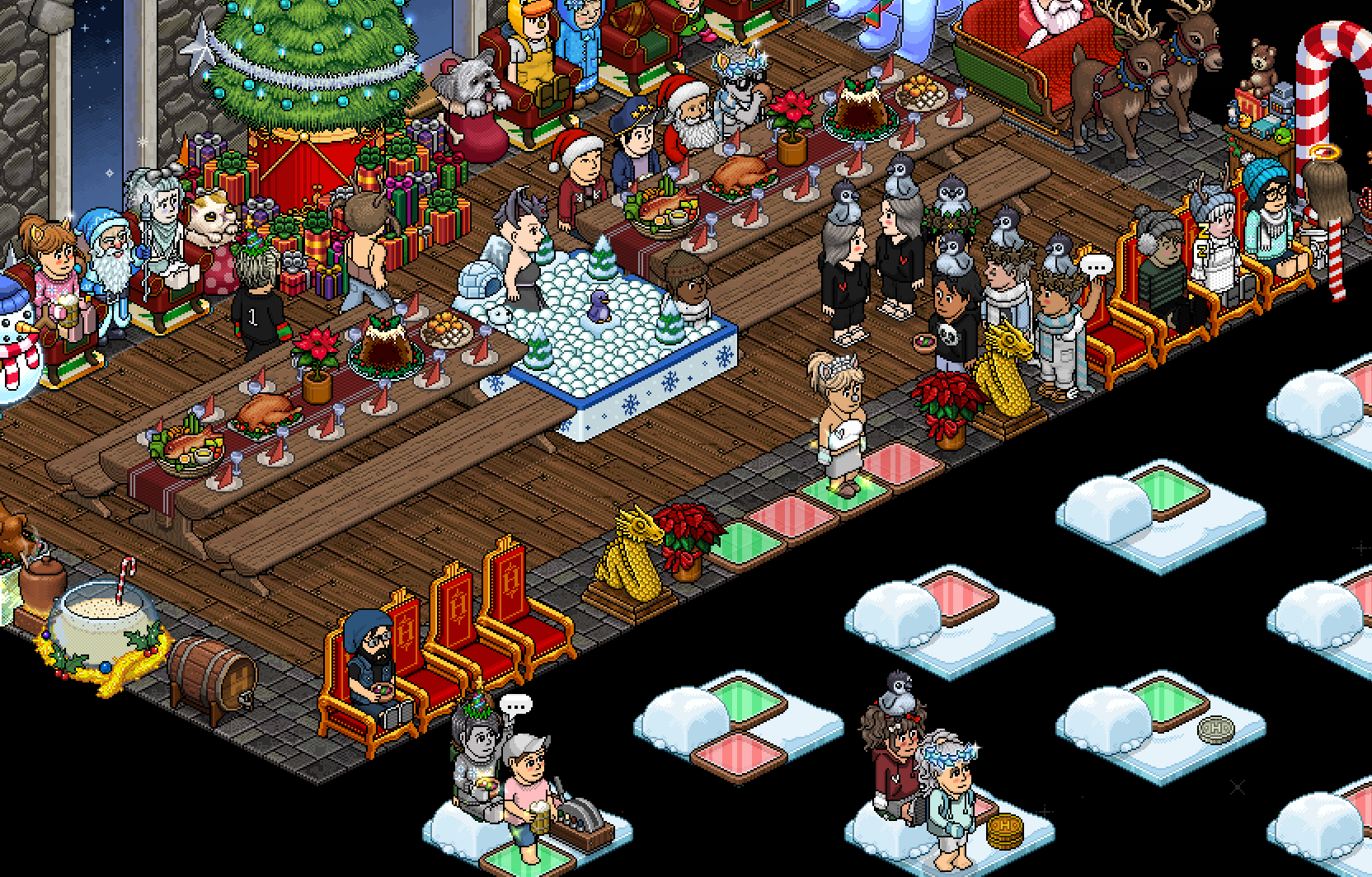 ---
That's all for our 100th edition of Weekly Bites - we will be back .
Remember, you can submit your own content to be featured in future editions of Weekly Bites and be rewarded for it!
For more information, refer to our "Introducing Weekly Bites" article.
---
What is your favourite part about Weekly Bites?
Sorry, we're no longer accepting entires for this form.